So my last few posts have been winter themed. Gorgeous whites, touches of blue, and a Christmas dream wedding. This post is for those that love the idea of a rustic winter wedding. Planning a rustic winter wedding can be a very economical choice, as winter lends itself to so many natural decorations. Pinecones, cranberries, branches and more can become beautiful decorative pieces! Here are some of my favorite ideas for a rustic winter wedding! I try to post links to most of what is listed in my blog post, and I try to keep my choices fairly economical. Enjoy!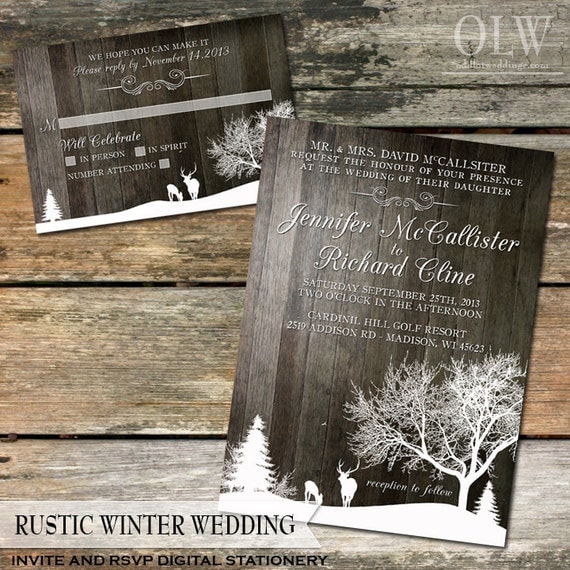 I had to put these in this post, they are labeled Rustic Winter Wedding for goodness sakes :). These gorgeous invites can be found on etsy.com by OddLotEmporium.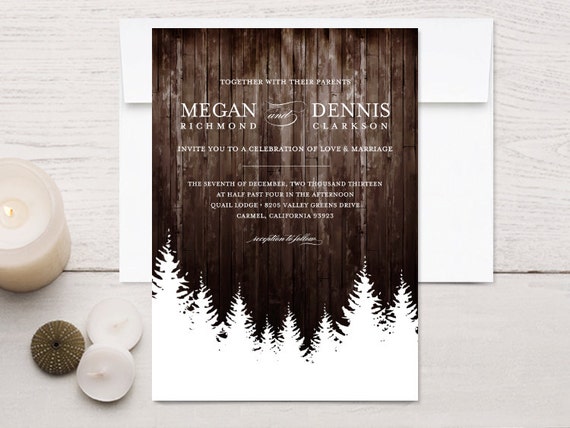 These are by RockPaperDove on Etsy.com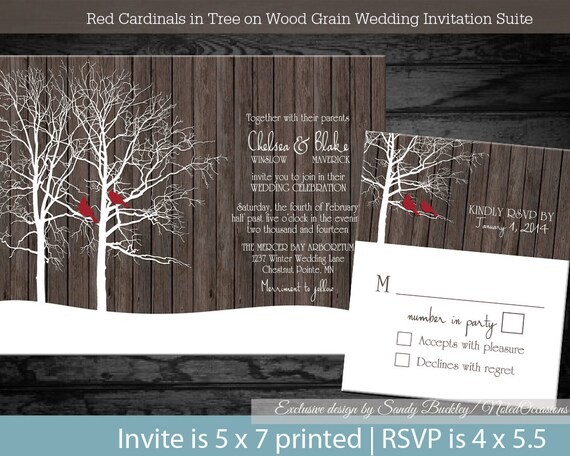 I love the little touch of red with the cardinals! These can be found by NotedOccasions on Etsy.com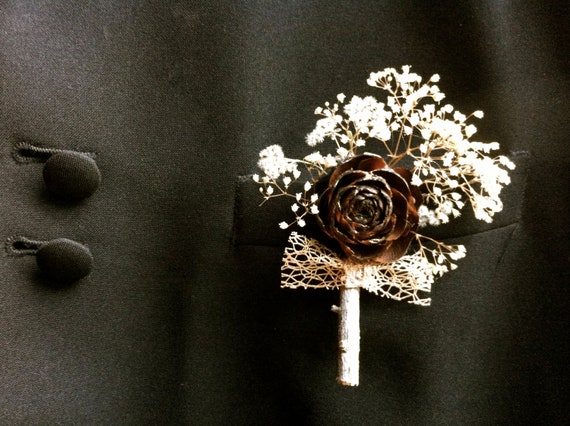 These Rustic boutonniere's are so unique and affordable! $11.00 by MomoRadRose on Etsy.com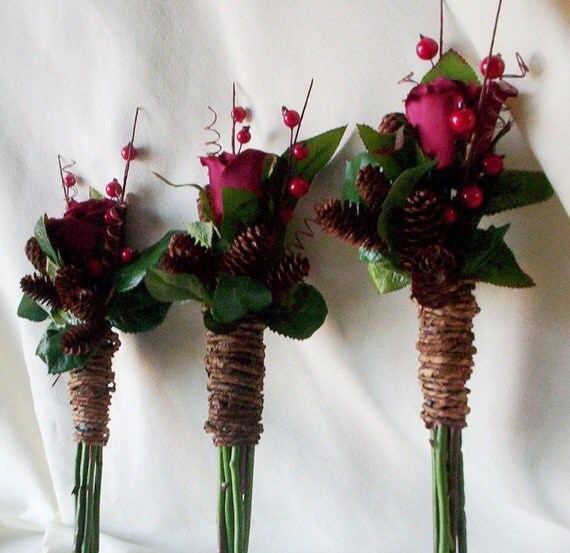 These beautiful boutonnieres add a touch of color to the guy's ensemble. Set of 6 for $159.00 by AmoreBride on Etsy.com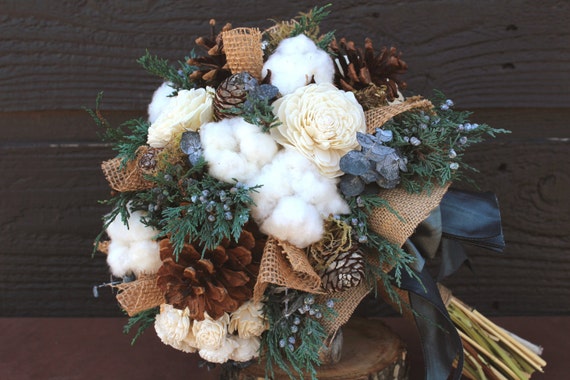 This Rustic Wedding Bouquet is so perfect for a winter wedding! You can keep it for forever, and it fits the theme perfectly. You can find this beautiful bouquet for $134.00 by SmokyMtnWoodcrafts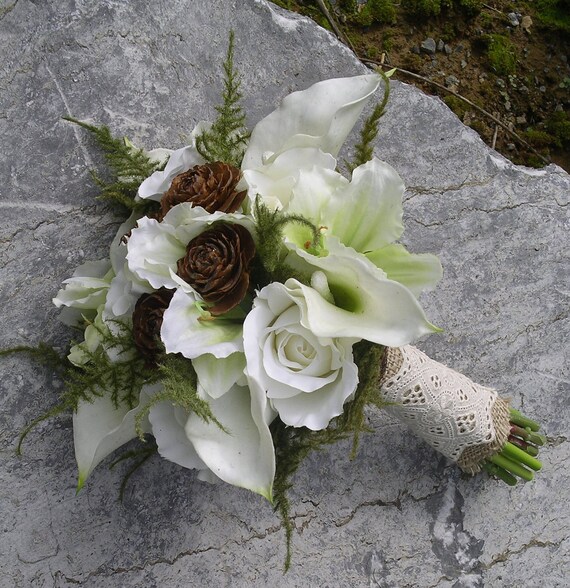 Love the touch of lace around the burlap! $150.00 by BloomedToLast on Etsy.com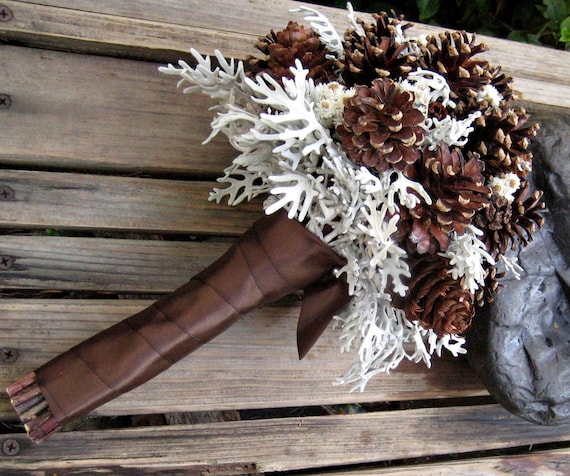 SeasonalBounty on Etsy.com... love this!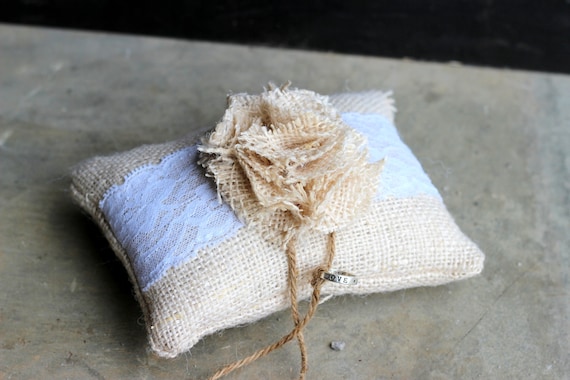 This adorable burlap and lace pillow can be found for only $15.00 on Etsy.com by WeasleBees!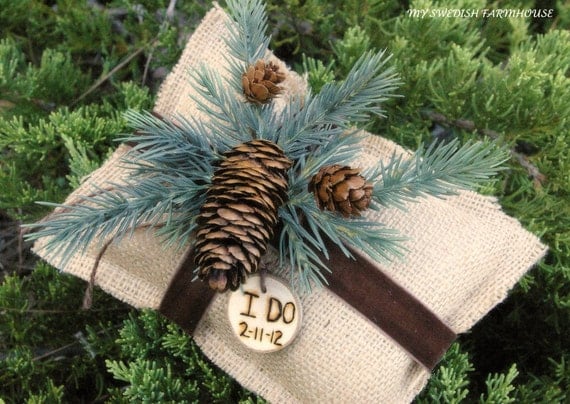 Love the little wooden personalization on this burlap ring bearer pillow! $29.00 by MinSvenskaLandgard on etsy.com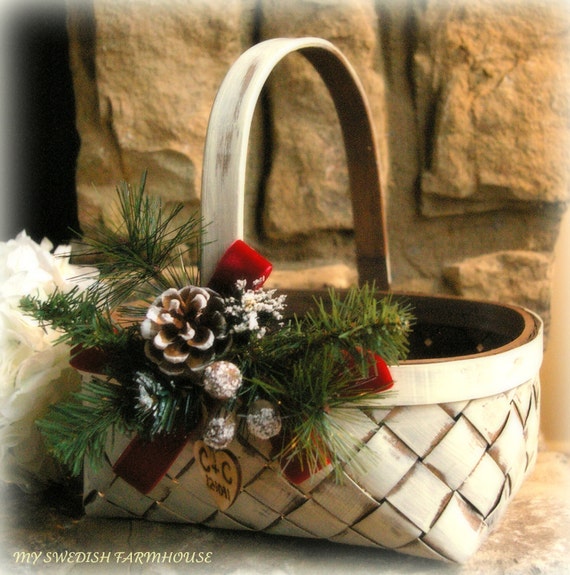 Love this gorgeous little flower girls basket! $34.00 by MinSvenskaLandgard on etsy.com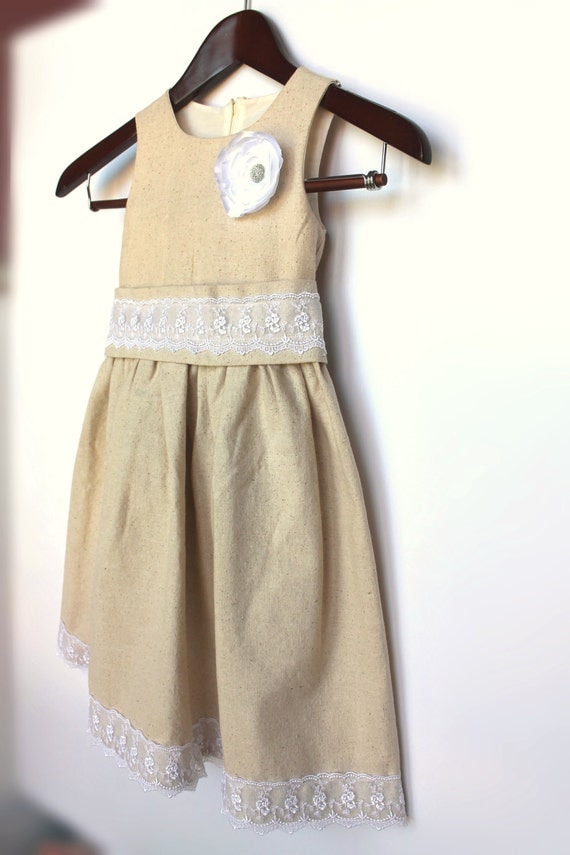 $45.00 By LudasBoxofTreasures... I love the natural look of this little flower girls' dress, it could be used for a mountain retreat wedding, or a spring wedding as well.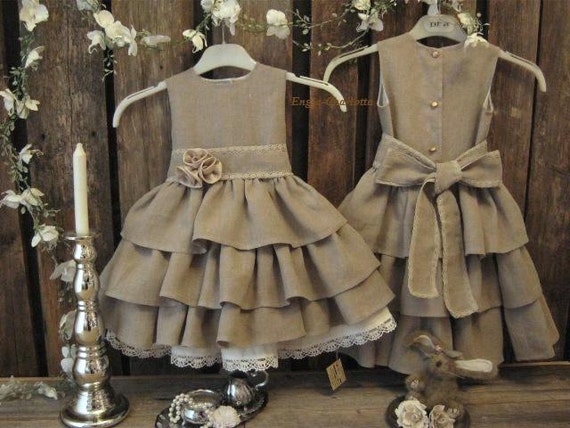 How cute is this flower girl's dress! Love this! $69.26 by EnglaCharolottaShop on Etsy.com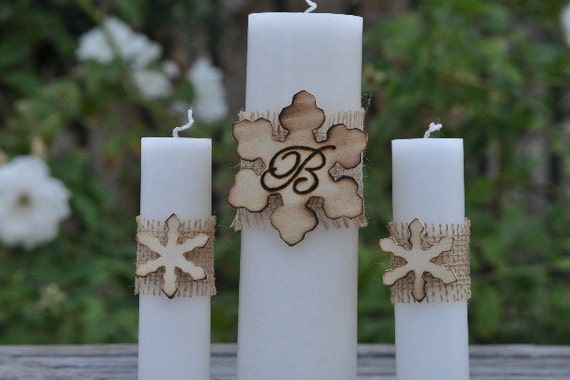 These unique unity candles would be perfect for your rustic winter wedding! This set can be found on etsy.com in BeaconHillsCandles shop, for $40.00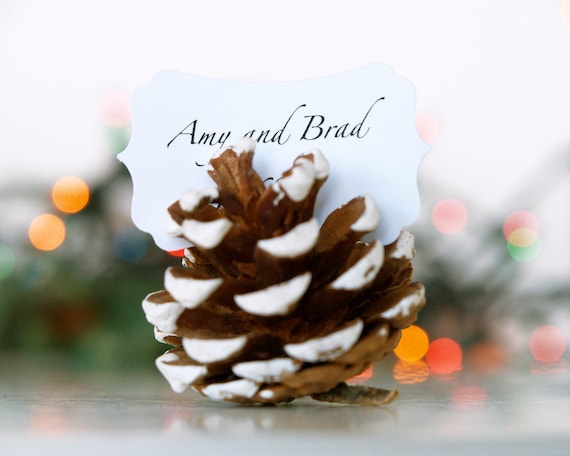 Love these place card setting! You could make these yourself or you can buy a set of 10 of these for $20.00 by FairyFoldWeddings on Etsy.com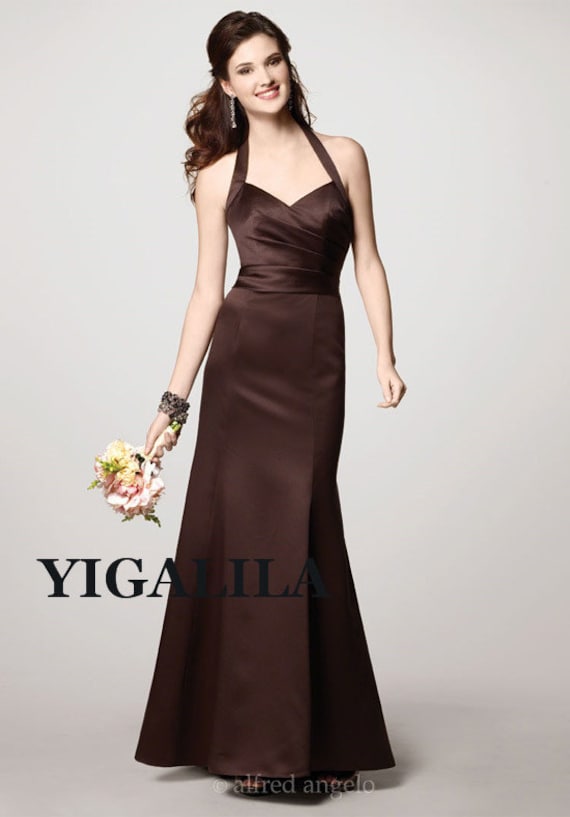 Dark brown or taupe would be a perfect color choice for the bridesmaid dresses! This little number can be found on Etsy.com by YigaLila for $76.00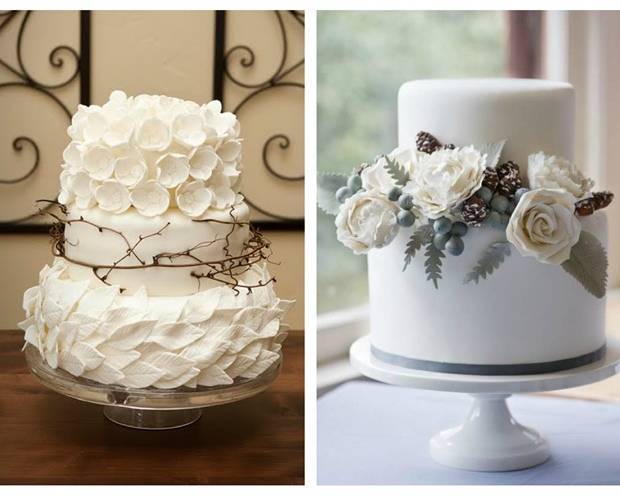 I love both of these wedding cakes!! They just scream Rustic Winter wedding to me, and both are beautiful and classy!
Love these as well! The use of pinecones to decorate the wedding cake is so simple, yet so fitting to the theme. I love the one on the left with it's unique use of chocolate, and the tipper on the right is adorable!
Simple (and oh so economical) use of pinecones here! You can use them for centerpieces, boutonnieres, bouquets and so much more!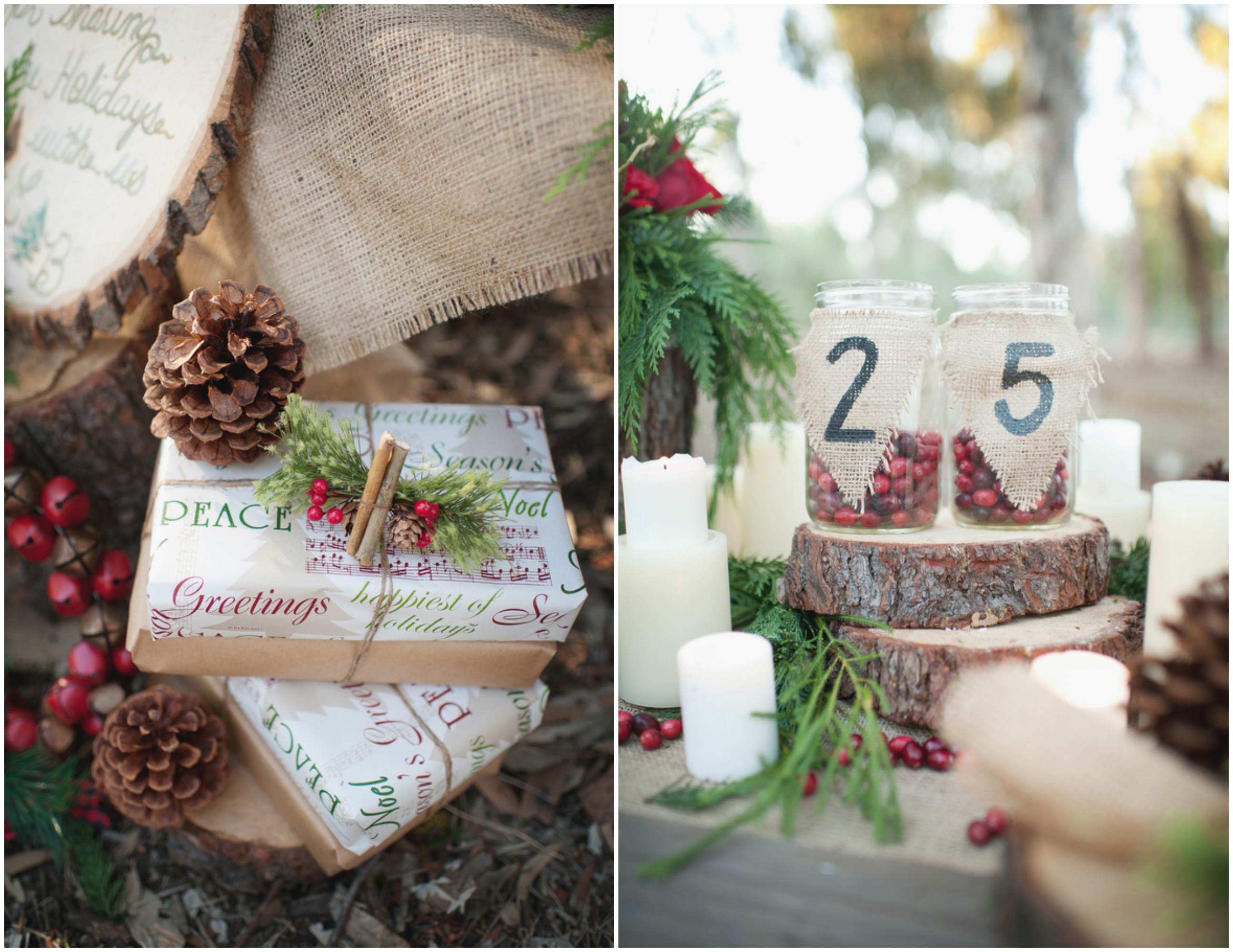 I love the use of the cranberries in the mason jars as centerpieces/table numbers! Very unique and would be an easy DIY project!
I love the idea of a burlap table runner and then the class filled with fake snow, pinecones (you could leave them natural or paint them white or even add a glitter spray) and white branches. Love this look!
I love Maggie Sottero gowns and the Lace in on this dress is just beautiful. Lace in general always works with a rustic themed wedding!
Love the romance in this dress.. With a little shrug for the cold, this wedding gown would be perfect for a rustic wedding!